Trial system is to guide players to play the game well. After meeting trial requirements, players can receive lush rewards.
When the character reaches lv.10, above the game will pop up the icon shown below.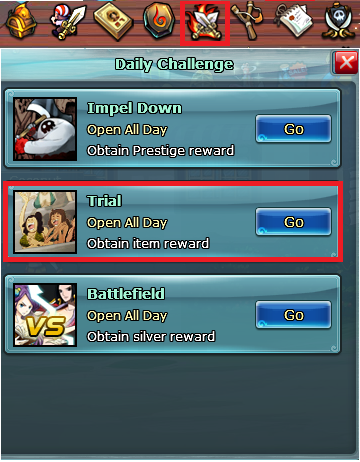 Click to view dialog box.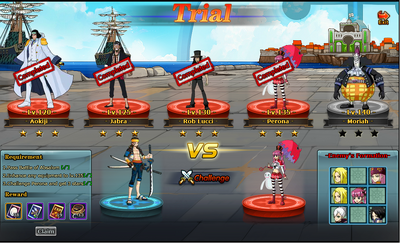 Area 1: Display players'chosen trial challenges
Area 2: Display 3 goals of the trial. Generally, the contents of the 3 goals are in line with the main plots.
Area 3: Display trial rewards. Players claim them after accomplishing all goals and unlock the next trial.
Area 4: Select the trial.

Rules:
Pirate's trial system is available to lv.10 players.
Players have to complete the trial of previous phase and reach trial level to unlock the next one.
Each trial includes 3 quest goals. Players have to accomplish all goals to complete trial and claim rewards
Unactivated trial avatars are grey.
Trial Battle
Level
Trial
Quest Goals
Rewards
20

Complete the battle of Alvida
Enhance any gear to level 15
Challenge Alvida and get 3 stars

Mega Silver Card *1
Gold Card *1
Medium EXP Card *1
Lv.1 Shell Chest *1

25

Complete the battle of Axe-Hand Morgan
Has 3 crew members
Challenge Morgan and get 3 stars

Mega Silver Card*2
Gold Card*2
Medium EXP Card*3
Lv.1 Shell Chest*2

30

Complete the battle of Buggy the Clown
Enter elite battle and win a level 30 purple gear
Challenge Buggy and get 3 stars

Mega Silver Card*3
Gold Card*3
Medium EXP Card*4
Lv.1 Shell Chest*3

35

Complete the battle of Captain Kuro
Aptitude reaches 20 points
Challenge Kuro and get 3 stars

Mega Silver Card*4
Warship Upgrade Card*2
Medium EXP Card*5
Salvage Rope*3

40

Complete the battle of Iron Fist Fullbody
One of the crew member's stats reaches rank B
Challenge Fullbody and get 3 stars

Mega Silver Card*5
Warship Upgrade Card*2
Medium EXP Card*6
Lv.1 Shell Chest*4

45

Complete the Battle of East Blue's Ruler
Enhance any gear to level 40
Challenge Krieg and get 3 stars

Mega Silver Card*6
Warship Upgrade Card*2
Medium EXP Card*7
Salvage Rope*4

50

Complete the battle of Six Sword Style Hatchan
Has a level 40 purple gear
Challenge Hatchan and get 3 stars

Mega Silver Card*7
Warship Upgrade Card*3
Medium EXP Card*8
Lv.1 Shell Chest*5

55

Complete the battle of Sawshark Arlong
Aptitude reaches 40 points
Challenge Arlong and get 3 stars

Mega Silver Card*8
Warship Upgrade Card*3
Advanced EXP Card*3
Salvage Rope*5

60

Complete the battle of Loguetown's Marines
Has 6 crew members
Challenge Tashigi and get 3 stars

Mega Silver Card*9
Warship Upgrade Card*3
Advanced EXP Card*4
Lv.1 Shell Chest*6

65

Complete the battle of Buggy-Alvida Pirates
One of the crew member's stats reaches rank A
Challenge Alvida and get 3 stars

Mega Silver Card*10
Warship Upgrade Card*4
Advanced EXP Card*5
Salvage Rope*6

70

Complete the battle of White Hunter Smoker
Enhance any gear to level 60
Challenge Smoker and get 3 stars

Mega Silver Card*12
Warship Upgrade Card*4
Advanced EXP Card*6
Lv.1 Shell Chest*7

75

Complete the Battle of Drum Island
Aptitude reaches 60 points
Challenge Dalton and get 3 stars

Mega Silver Card*14
Warship Upgrade Card*4
Advanced EXP Card*7
Salvage Rope*7

80

Complete the battle of Tin-Plate Wapol
Has a level 60 orange gear
Challenge Wapol and get 3 stars

Mega Silver Card*16
Warship Upgrade Card*5
Advanced EXP Card*8
Lv.1 Shell Chest*8

85

Complete the Battle of the Rebellion
Enhance any gear to level 80
Challenge Kohza and get 3 stars

Mega Silver Card*18
Warship Upgrade Card*5
Advance EXP Card*9
Salvage Rope*8

90

Complete the battle of Crocodile
Has 8 crew members
Challenge Crocodile and get 3 stars

Mega Silver Card*20
Warship Upgrade Card*5
Advanced EXP Card*10
Lv.1 Shell Chest*9

95

Pass the Battle of Bellamy
Obtain an S rank gear
Challenge Cricket and get 3 stars

Mega Silver Card*22
Warship Upgrade Card*5
Advanced EXP Card*11
Salvage Rope*9

100

Pass the Battle of Black Beard
One of the crew's attribute reaches S
Challenge Bellamy and get 3 stars

Mega Silver Card*24
Warship Upgrade Card*5
Advanced EXP Card*12
Lv.1 Shell Chest*10

105

Pass the battle of Ordeal of String
Upgrade aptitude to 80 points
Challenge Blackbeard and get 3 stars

Mega Silver Card*26
Warship Upgrade Card*5
Advanced EXP Card*13
Salvage Rope*10

110

Pass the battle of Enel the God
Enhance one gear to level 100
Challenge Enel and get 3 stars

Mega Silver Card*28
Warship Upgrade Card*5
Advanced EXP Card*14
Lv.1 Shell Chest*11

115

Complete the Donut race
Get 10 Crew members
Challenge Foxy and get 3 stars

Mega Silver Card*30
Warship Upgrade Card*5
Advanced EXP Card*15
Salvage Rope*11

120

Complete Battle of Admiral Aokiji
Get 100 Points of aptitude
Challenge Aokiji and get 3 stars

Mega Silver Card*32
Warship Upgrade Card*5
Advanced EXP Card*16
Lv.1 Shell Chest*12

125

Complete Battle of Jabra
One of the crew member's skills reaches SS
Challenge Jabra and get 3 stars

Mega Silver Card*34
Warship Upgrade Card*5
Advanced EXP Card*17
Salvage Rope*12

130

Complete Battle of Rob Lucci
Enhance any gear to lv.120
ChallengeRob Lucci and get 3 stars

Mega Silver Card*36
Warship Upgrade Card*5
Advanced EXP Card*18
Lv.1 Shell Chest*13

135

Pass battle of Absalom
Enhance any equipment to lv.135
Challenge Perona and get 3 stars

Mega Silver Card*38
Warship Upgrade Card*5
Advanced EXP Card*19
Salvage Rope*13

140

Complete Battle of Moriah
?
Challenge Moriah and get 3 stars

Mega Silver Card*40
Warship Upgrade Card*5
Advanced EXP Card*20
Lv.1 Shell Chest*14