Team Battle is one of Pockie Pirates seven Online Events.
It starts every day at 03:00am-03:30am, 08:00am-08:30am and 08:00pm-08:30pm.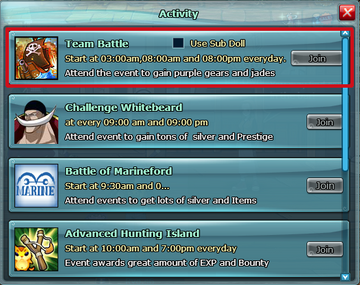 The players creates teams and fights to earn rewards. Your team will exist of random players and the minimum amount of players you need to start a battle is 3 while the maximum is 5.
You get 10 tries per day. Meaning that if you do 5 at 3:00am, you only got 5 left to do at 8:00am.
This can be bypassed however by using a Sub Doll after using your first 10 tries. A sub doll basicly "attends" the battle for you. Meaning you can still get Team Battle rewards while you are not even logged in. Also, the rewards you get from a sub doll battle are not tied to your 10 daily tries and a summary will be send to you by mail. You can get one as a random reward from salvaging and to use it, you simply tick the Use Sub Doll box on the event screen. 
The battles are played just like in the picture below.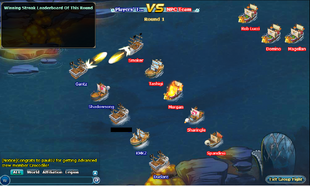 Notice: The damage dealt in the battles does not depend on what ship you own. It depends entirely on your crew just like in normal battles.

Rewards will be given only if your team succeed in defeating your enemies. However, you do not need to wait for the battle to finish, since it's an automatic battle system. You can skip to the reward screen by clicking the Exit Group Fight button in the bottom right corner.
The rewards of the Team Battle is shown as below. Please note that rewards are completely random and only the person that created the team will get the rewards. The other players just act as crew for you to temporarily use.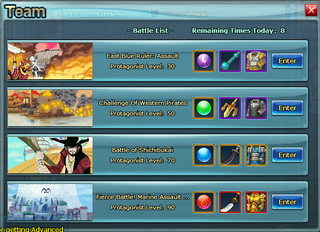 Rewards for the team battle:-
lv30: Purple shard (1/2) ,Thunder Jade,Lvl.1 Shell Chest .
lv50: Purple shard (1/2) ,Emerald,Lvl.1 Shell Chest .
Lv70: Orange shard (1/5),Turqoise Jade,Lvl.1 Shell Chest.
Lv90: Red shard (1/10),Flaming Jade,Lvl.1 Shell Chest
Lv110: Red shard(1/10),Black Jade
Enemy Total HP
LVL.30
Jango : 20215 HP
Kuro : 19998 HP
Buggy : 20541 HP
Hatchan : 20541 HP
Gin : 20541 HP
Krieg : 20107 HP
Alvida : 20758 HP
Arlong : 20107 HP​

LVL.50
Katarina = 39101 HP
Drake = 41523 HP
Dan Bill = 38881 HP
Barbarossa = 40202 HP
Singleton = 41083 HP
BlackSam = 41083 HP
Kid = 40643 HP
Zheng Shishi = 39982 HP

LVL.70
Moria = 82414 HP 
Boa = 80534 HP
Croc = 80439 HP
Kuma = 82414 HP
Marshall D. Teach = 80530 HP
Jinbe = 80530 HP
Doflamingo = 80530 HP
Hawk Eyes Mihawk = 82414 HP

LVL.90
Smoker = 169475 HP
Tashigi = 169475 HP
Morgan = 169295 HP
Sharigle = 166534 HP
Spandine = 169475 HP
Rob Lucci = 169475 HP
Domino = 169475 HP
Magellan = 166534 HP
Community content is available under
CC-BY-SA
unless otherwise noted.