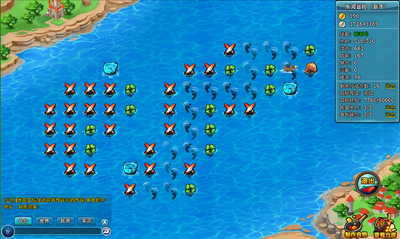 Starting with 40 mobility, 3/3 reborn and 3/3 skip.
Battle
Event
Description
"Captain, we're attacked by the marine headquarter fleet. It's said that they are very powerful. Better escape now!"
Note: It is very hard to defeat them, skipping the event is recommended.
Marine Attack
"Captain, we've met the patrolling marines. Seems like they are coming for no good. We've prepared for the battle!"
Marine Patrol
"Captain! We fell into pirates' trap. We shall beat them first!"
Pirates' Trap
Luck
Event
Description
"We run into a mystical stargazer. If we are lucky, we can get extra action times, but if not... Captain, shall we have a try?"
Note: Rock-paper-scissors, if win Mobility +3, if lose Mobility -3
Divine
"Captain, we are now in the foggy zone. Perhaps we can get double EXP!"
Note: Rock-paper-scissors, if win Double EXP, if lose Regular EXP
EXP Bonus
"Crews caught tons of seafoods and had a feast. Now the HP is restored by 30%!"
Feast
"Captain! We're enchanted by Sea God. What will be ahead of us?"
Note: Rock-paper-scissors, if win Attack & Defense +10%, if lose Attack & Defense -10%
Sea God's Magic
"The warship is severely damaged by the tsunami. HP is reduced by 30%"
Tsunami
Treasure
Event
Description
"The sea merchants over there are selling some useful shop items at a great bargain. Go and have a look there?"

Big Sale
"Mystical relics encountered! Go explore it and you may get unexpected treasures! Set off now!"

Seek Treasure Chest
"Captain! We find a treasure map! Now we can go to dig the treasure at sea!"
Treasure Map
"Captain, the treasure pointer moved! As long as we can find the place in the map, we may get rich!"

Treasure Pointer
"Seems like the mystery treasure chests contain fantastic treasures. Open it now!"

Underwater Treasure
Teleport
Event
Description
"Captain, we've entered a mystery teleport array! Where will we be teleported to this time?"

Teleport
Detection
Event
Description
"Captain, it's a nice day! We can see everything around us very clearly!"

Detection
Boss Battle
| Event | Description |
| --- | --- |
| | Boss battle, defeat it and get some crystals |
Community content is available under
CC-BY-SA
unless otherwise noted.