Perona

"Ghost Princess" Perona
Crew Info
Profession
Navigator
Quality
Special Skill
Ghost Network
Location
All Blue
Secondary Job
Navigator
Sailing Bonus
HP +25%
Attribute Growth
Str
140
Wis
930
Con
340
Agi
590
Information
"Perona is one of the Shichibukai member Gecko Moriah's cadres and also the commander of Wild Zombies and Surprise Zombies. She looks like an adorable princess but is actually very boyish."
MAX INT
Perona max int at lvl 100 is 2046
Perona max int at lvl 110 is 2139
Perona max int at lvl 120 is 2232
Perona max int at lvl 130 is 2325

MAX AGI
Perona max agi at lvl 100 is 1298
Perona max agi at lvl 110 is 1357
Perona max agi at lvl 120 is 1416
Perona max agi at lvl 130 is 1475
Special Skill
Ghost Network
[ROW]Attack one row of enemies and cause 150% damage. Targets will become negative (cannot accumulate fury) and their hit rate is down by 50%, lasting for two rounds, damage is calculated based on attacker's wisdom.
Upgraded Skill
Ghost Split
[Row and Line]Attack current target and all enemies on a row and a line of that target and cause 200% magical damage. And make the target negative and reduce the target's hit rate by 50%. The effect will last for 2 rounds. Damage rate raises with the crew's wit.
Devil Fruit
Physical Damage received is reduced by 30%. Normal Attack has a 50% chance of dealing damage to the entire Row
Advantage
Give 2 debuff at the same time.
Skill prevent targets in a row to recover fury.
Good combo with Sanji.
Great combo with other Tank based on dodge.
Disadvantage
Row attack, need good positioning
Prevent fury recovery debuff will be cleansed 1st by Shelter of God
Recommended Passive
Shelter of God
Speed Control
Gallery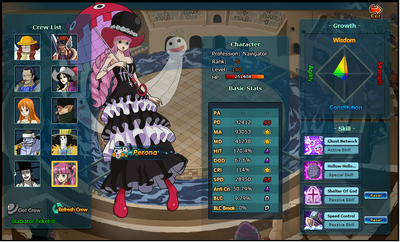 Classes
Community content is available under
CC-BY-SA
unless otherwise noted.