One Piece Battle is one of Pockie Pirates four Online Events.
It's a tournament between the players that takes place every Wednesday and Saturday.
The sign up starts 04:30pm and ends at 09:29pm. The tournament starts at 09.30pm.
Procedure :
Preliminary round: 09:30pm-09:50pm.
Top 16: 09:50pm-10:10pm.
Eigth-Finals: 10:10pm-10:30pm.
Quarter-Finals: 10:30pm-10:50pm.
Semi-Finals: 10:50pm-11:10pm.
Finale: 11:10pm-11:30pm.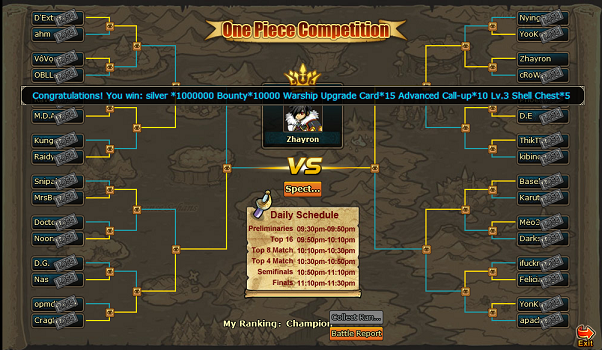 Rules:
Preliminary round: Registered players will be randomly divided into 32 groups and fight 1v1 against random players. The winners will enter the next round while the loser gets eliminated. If a group has an odd number of players, the player who has no match in the first round will enter the next round until every group has one player left, which means a total of 32 players left. The top 32 players will be given a number from 1-32 according to the time they win the match.
Top 16: Players will enter the knockout round and fight 1V1. Players who won 2 out of 3 sets will win.
Eight-Final, Quarter-Final and Semi-Final got the same rules as Top 16.
Finale: The two players who wins their Semi-finals will enter the final elimination match and fight 1v1. Player who win 2 out of 3 sets will become the tournament champion.
Rewards:
Everyone that was eliminated in the Preliminary round: 50,000 silver
Top 32 players: 80,000 silver and 2 Advanced Call-ups
Top 16 players: 100,000 silver and 5 Warship Upgrade Cards
Top 8 players: 150,000 silver and 5 Advanced Call-ups
Top 4 players: 200,000 silver and 15 Warship Upgrade Cards
2nd place: 300,000 silver , 3 Lv.3 Shell Chests and 15 Warship Upgrade cards
The winner: 1,000,000 silver, 5 Lv.3 Shell Chests, 10,000 bounty, 15 Warship Upgrade Cards, 10 Advanced Call-ups and 10 Training Potions