Information
"Diamond" Jozu is the 3rd division commander of the Whitebeard Pirates(user of the Diamond-Diamond fruit).
Special Skill
Brilliant Punk
[Monomer] Sacrifice 50% of current HP and deal 500% Physical + Non Attribute Damage (1.5 X sacrificed HP)to a single target. Next incoming damage be reduced by 90% for one turn.
Devil Fruit
Increase Max HP by 20%; a certain chance to avoid physical damage
Advantage
Has a very high amount of HP.
Inficts very high single target Non Attribute Damage.
He gains a reduction buff of 90% less dmg for 1 round
Good when team up with a crew that can give blood pact debuff (such as Krieg)
Disadvantage
He will always sacrifice 50% of his current HP in order to do his skill.
Healer is a must to accompany him, without healer he is a double edge sword.
If the target is dying, his skill is wasted.
Can be easily killed by Van Augur.
Very unsafe character.
Need his Devil Fruit for increase fury skill.
Recommended Passive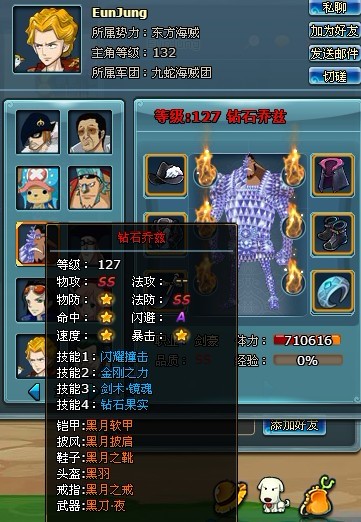 Classes
Community content is available under
CC-BY-SA
unless otherwise noted.