Welcome to the Pockie Pirates Wikia!
This is a fan made wikia for Pockie Pirates. If you want contribute feel free to edit and add any pages you feel this wikia is lacking and we will add it to the front page or simply click the red text and it will directly link you to create a new page.
Pockie Pirate is the fairly anticipated browser based game, with some similarities from the popular Pockie Ninja games. Whereas the Pockie Ninja games revolved around the world from the manga and animes of Naruto and Bleach, Pockie Pirates is based on the world of One Piece. Both sets of games are also being hosted by the same company, Game 321. This game is originated and developed by a Chinese company.
The game's open beta was launched on July 4th, 2012. The game currently has 48 Servers and is on Chapter 9.

Classes


Contents

Game Systems

Sailor Bars

Battle Systems

Sailing

Gear Systems

Harbour

Events





Forum





Vote for your favourite SS-quality crew

Wanted SS Crew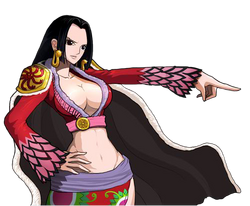 "Pirate Empress" Boa Hancock


Navigator
North Blue Bar
Str
250
Wis
830
Con
290
Agi
630
"The only female member of the Shichibukai, also known as Pirate Empress. She rules over the Kuja tribe which locates in the Amazon Lily."